Reviews and photos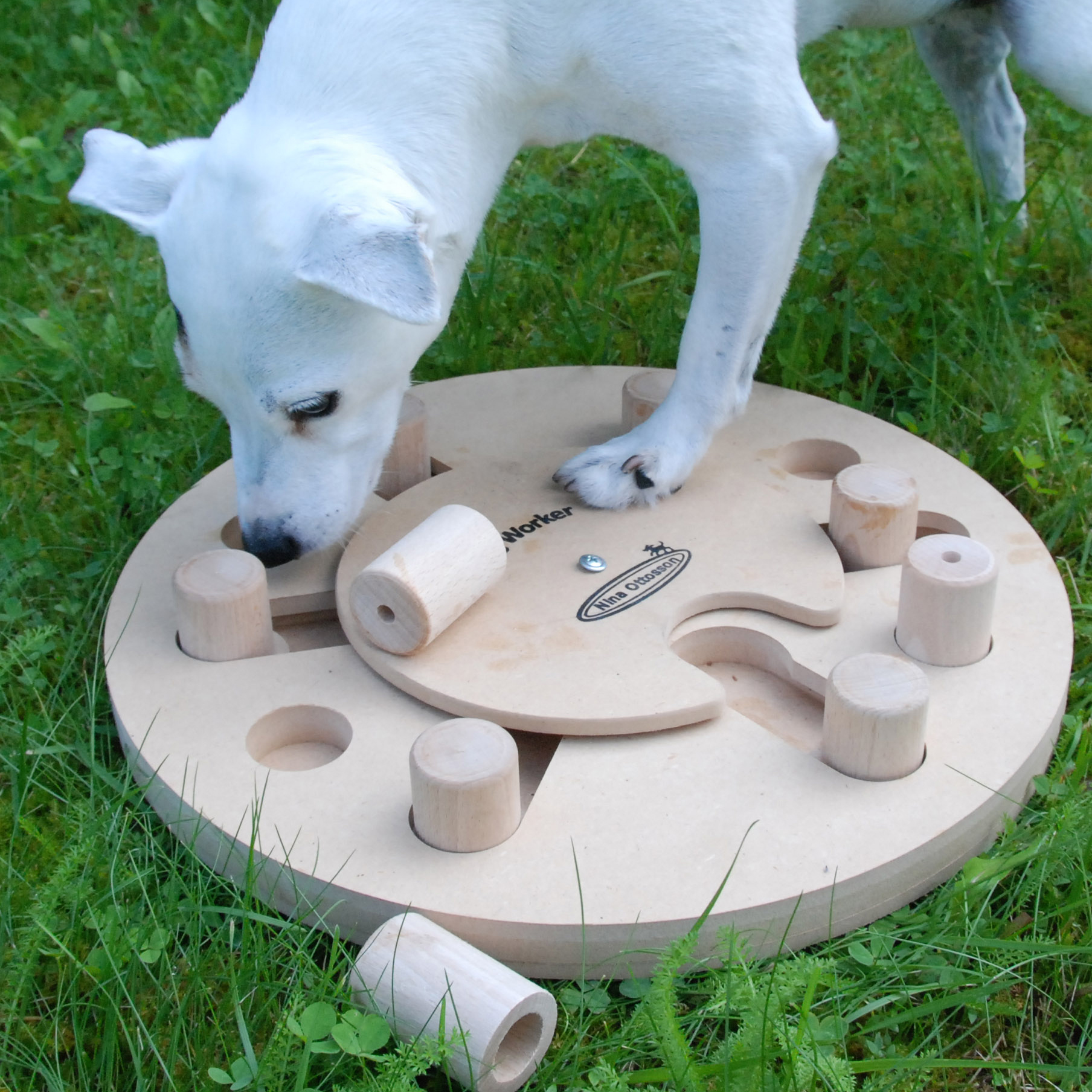 I want to thank you for all the wonderful toys and puzzles your company produces. I am the owner of The Dog House, a dog day care and boarding business. I also do dog training and education. I routinely use the Nina Ottoson Dog Treat Maze, DogTormado Plastic, and the Dog Worker for my own dogs and my guest dogs. The challenge of working for their food is beneficial to all my dogs!
I recommend your products all the time to my clients, especially for their bored dogs or fast eaters. I point them to your website or to various websites that discuss your products.
I have referenced your products and website on my blog, The Dog House Blog, at http://thedoghouseww.blogspot.com/.
A Very Satisfied Customer,
Katie Christianson


I just wanted to say that I love having intelligent dogs to live with and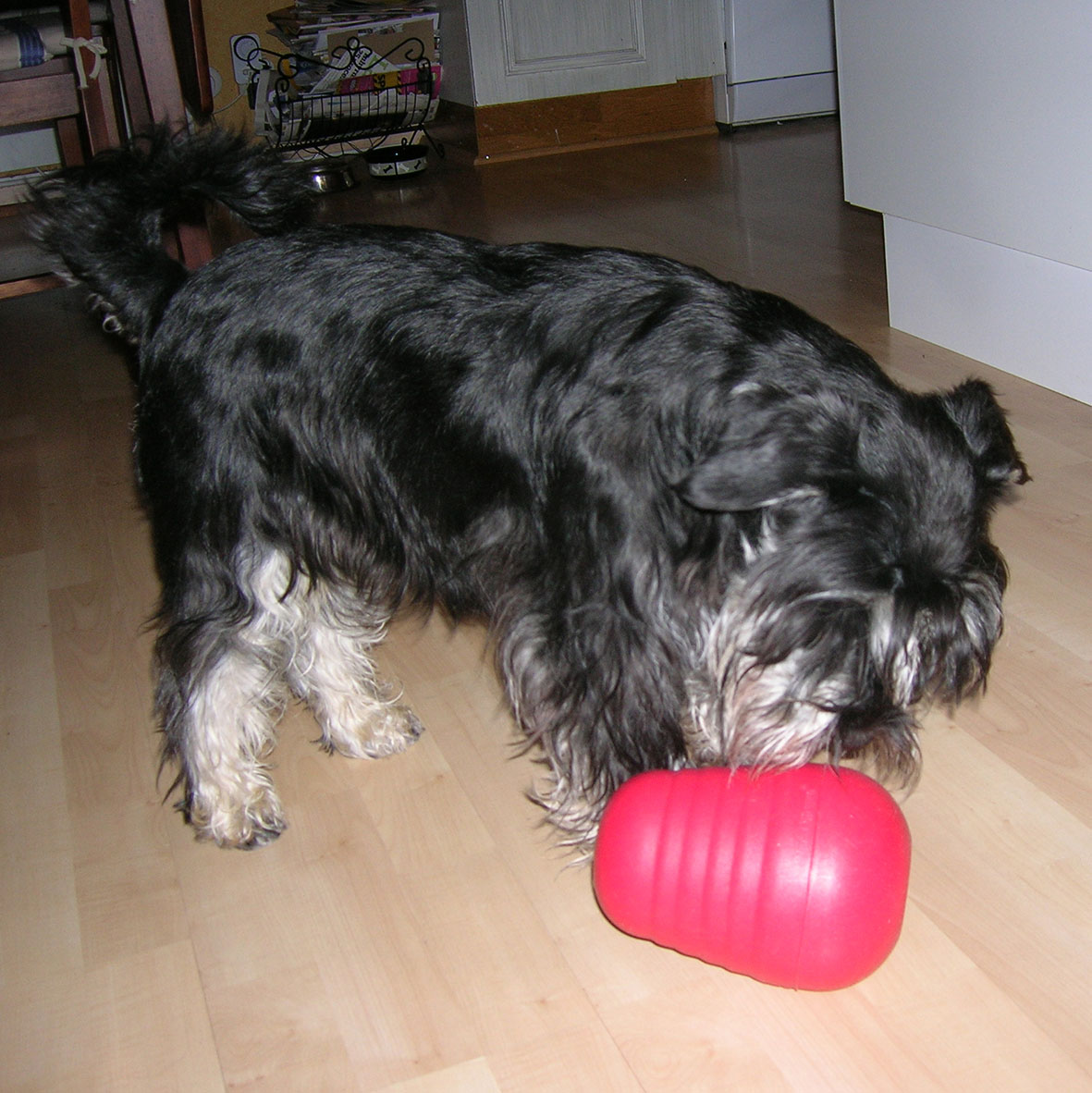 train and my dogs of course really have fun with their Nina Ottosson toys. However, I especially like to use them when I have a litter of miniature schnauzers, as I find they have fun and it encourages them to explore and try new things and it starts them off on the road to trying to work things out for themselves (great intro before starting to use a clicker). I've noticed the pups get much more excited over dinner when it is in a toy instead of the bowl!

I believe this start makes the pups easier to teach and them more keen to learn.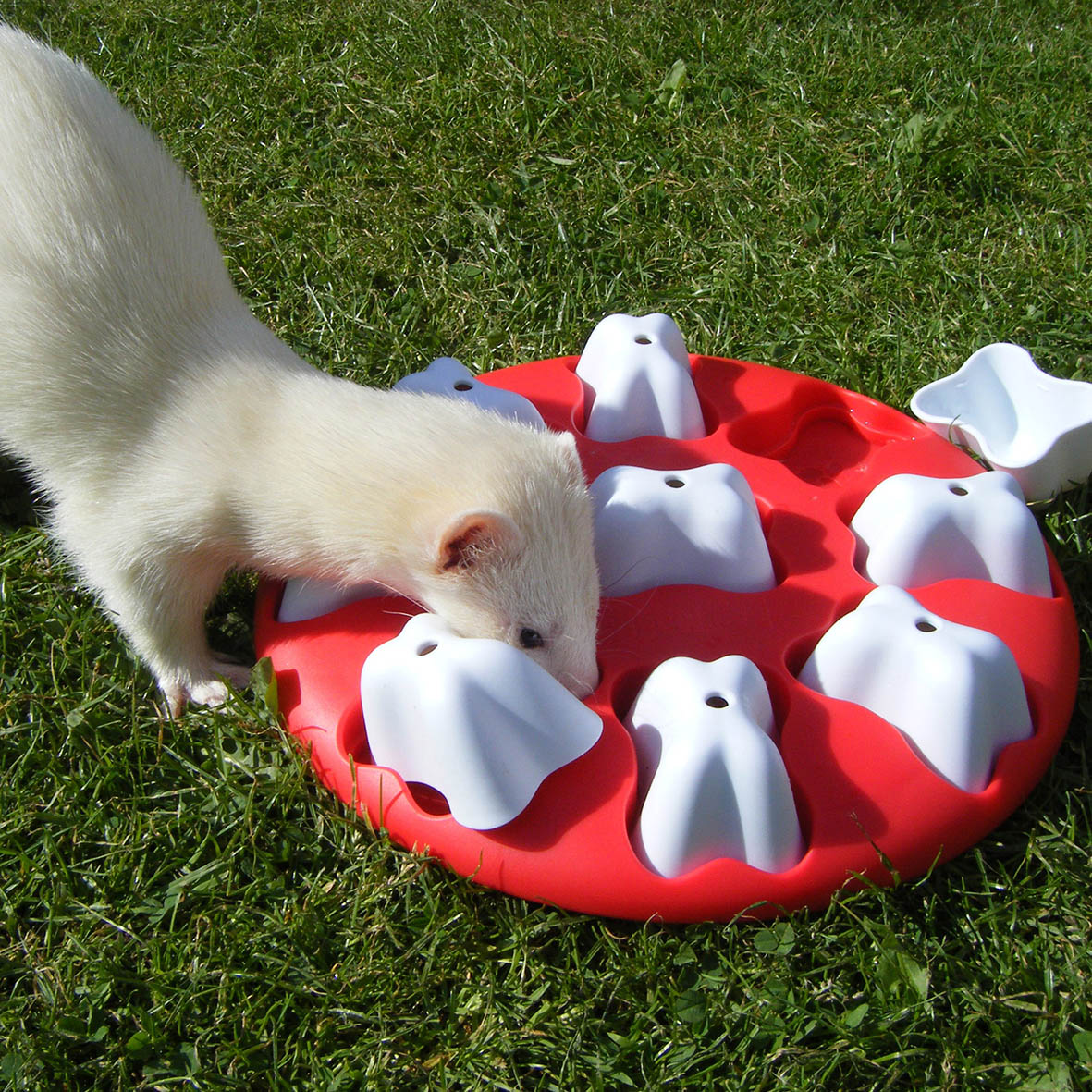 Theyre not just for dogs! They are great for ferrets too!​

I ​have purchased every Nina Ottosson Plastic Dog Puzzle for my dog and we have a blast using them. ​We anxiously await the release of every new plastic toy you make. ​Thank you so much!
​

My dog petra and I anxiously await the release of all of your plastic dog puzzles, we own every one you have released so far and greatly enjoy using them.
​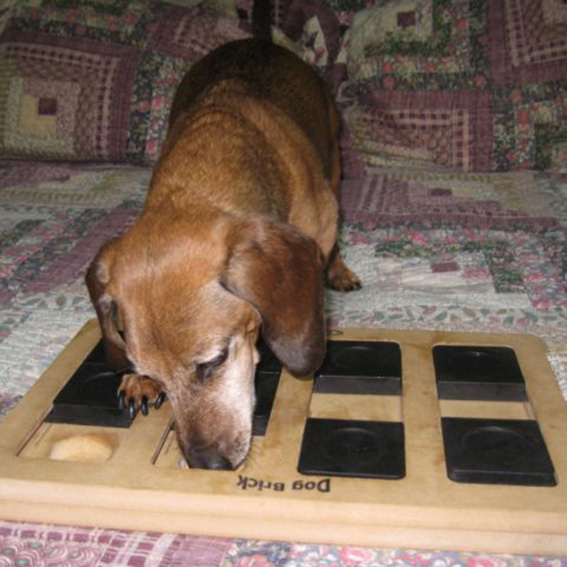 We love Nina's toys. We have the Dog Brick & the Dog Tornado. It's so fun to watch them learn and it's fun on rainy days and during long winter months. We have a blind dog who especially loves these games and he is very methodical about how he plays. I'm a member of a blind dog group on the web and I've shared this news with them along with a video and it's inspired others who have dogs who have recently gone blind. So often it's harder on us to accept the change than it is on the dog, it's just learning how to do things differently and our dogs teach us this so well. Thanks again for the great games. It's always fun to see them so happy while playing and they love to learn.
​
We love your toys! Our dog Waldo feels super smart! :D
​
My dog Chablis and I love your puzzles! We already have the Tornado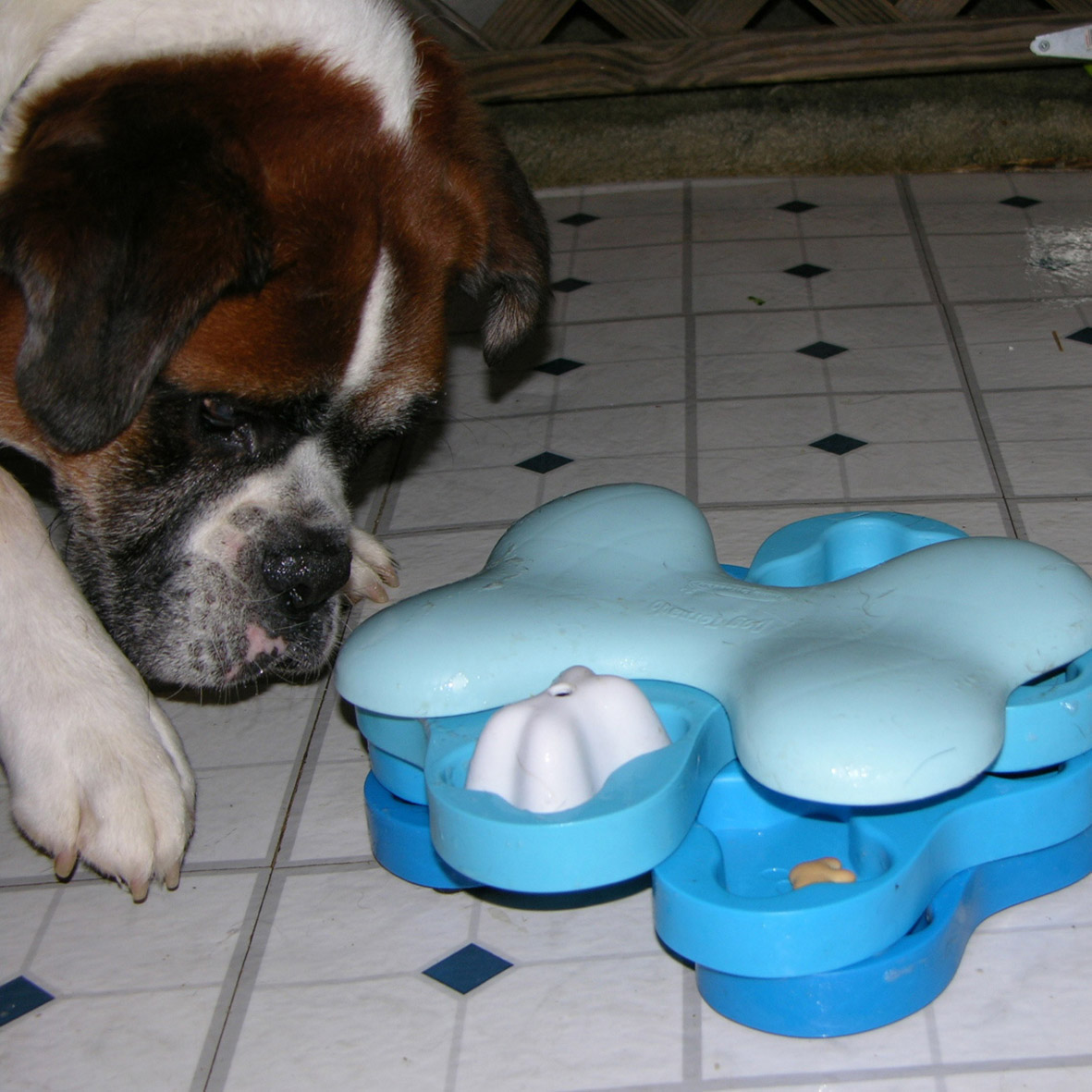 and Twister. She knows the names of them and gets very excited when I say "Let's play Tornado"!
​
LOVE all your dog toys. My MaltiPoo has 6 of them; we eagerly await new ones!!!!
​
I am a big time fan, my dogs love to play the puzzles and I like, as a behaviourist, to teach people how to play with their dogs and cats
​
My dogs love these games- need some more difficult ones though, my gsd solves them too fast! :-)
​
Fantastic toys. I am a product design researcher and I rather enjoy seeing some of the unique designs and solutions you've developed for these animals. I can't wait to put these to good use with my own dog. Thank you for your work and contributions toward better and more interesting dog toys.
​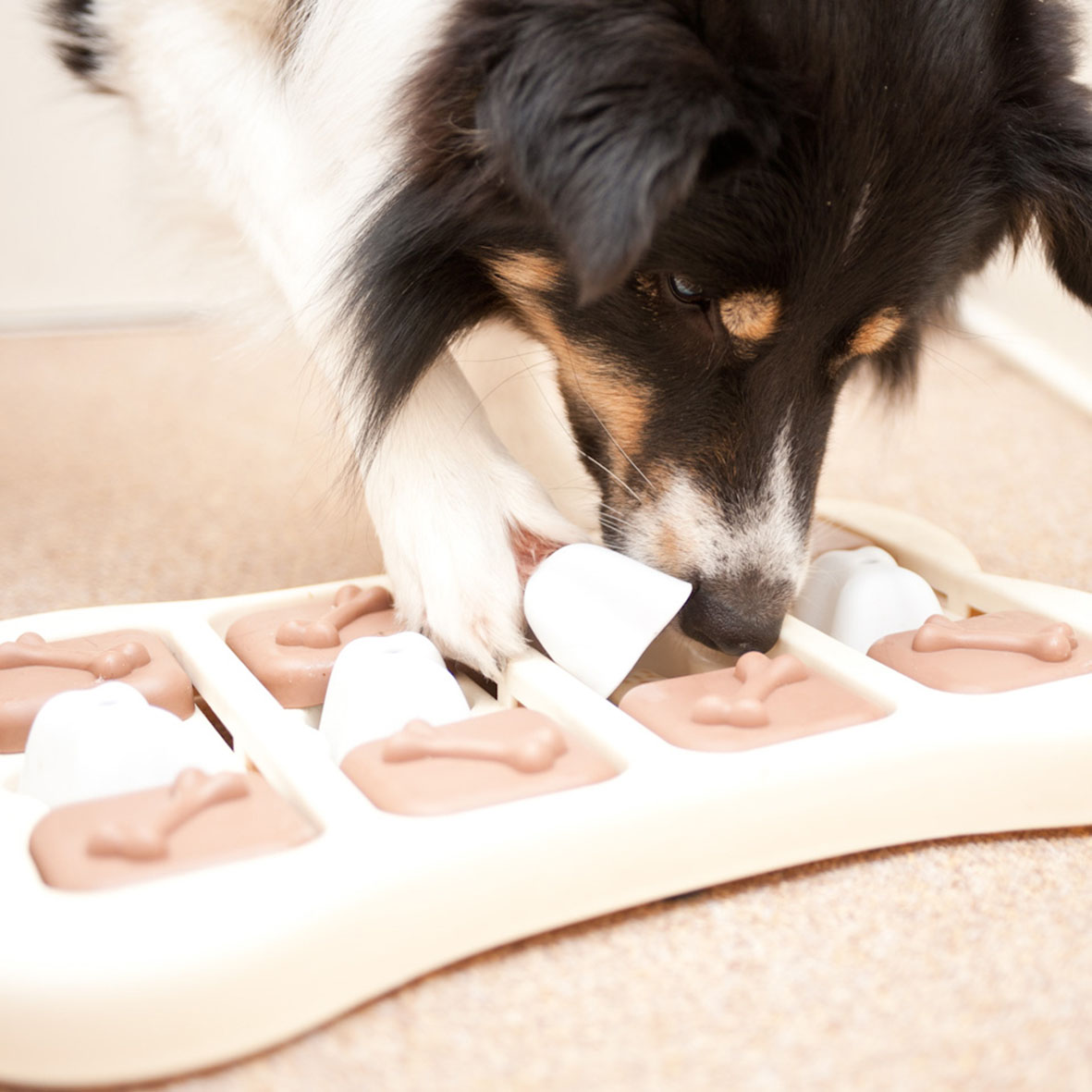 Thank you so much for making more than just another tennis ball shaped like football.
​
jag har en labbetjej på 3 år och hon tycker det är lika skoj varenda gång jag tar fram aktiveringsleksakerna, tack för roliga o spännade produkter som både hund och matte tycker är roliga...
​
My cats love your puzzles...keep up the good work!
​
Är jätteglad över alla fina produkter! Jag brukar tipsa mina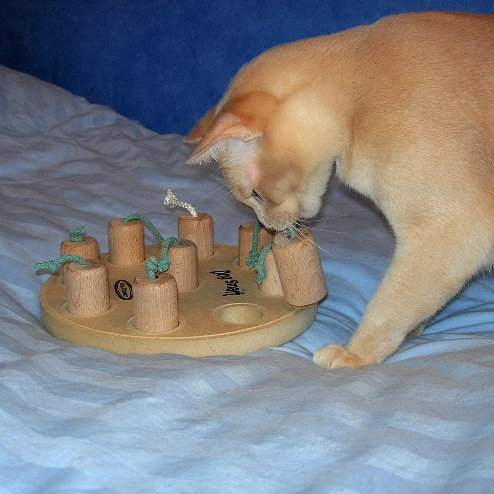 valpköpare!!
Mina shelties har fått ett blått, jättefint Dog Casino i Påskpresenten! De tycker att den är jättekul!!
​
Love your dog toys. We have 2 Maltese, who together weight 11.6lbs. They are 12 & 13 years old & are Animal Assisted Therapy dogs through the ASPCA. They have Brick, Tornado, Twister & Casino. They love them & do them really fast. We need new & more difficult toys.
​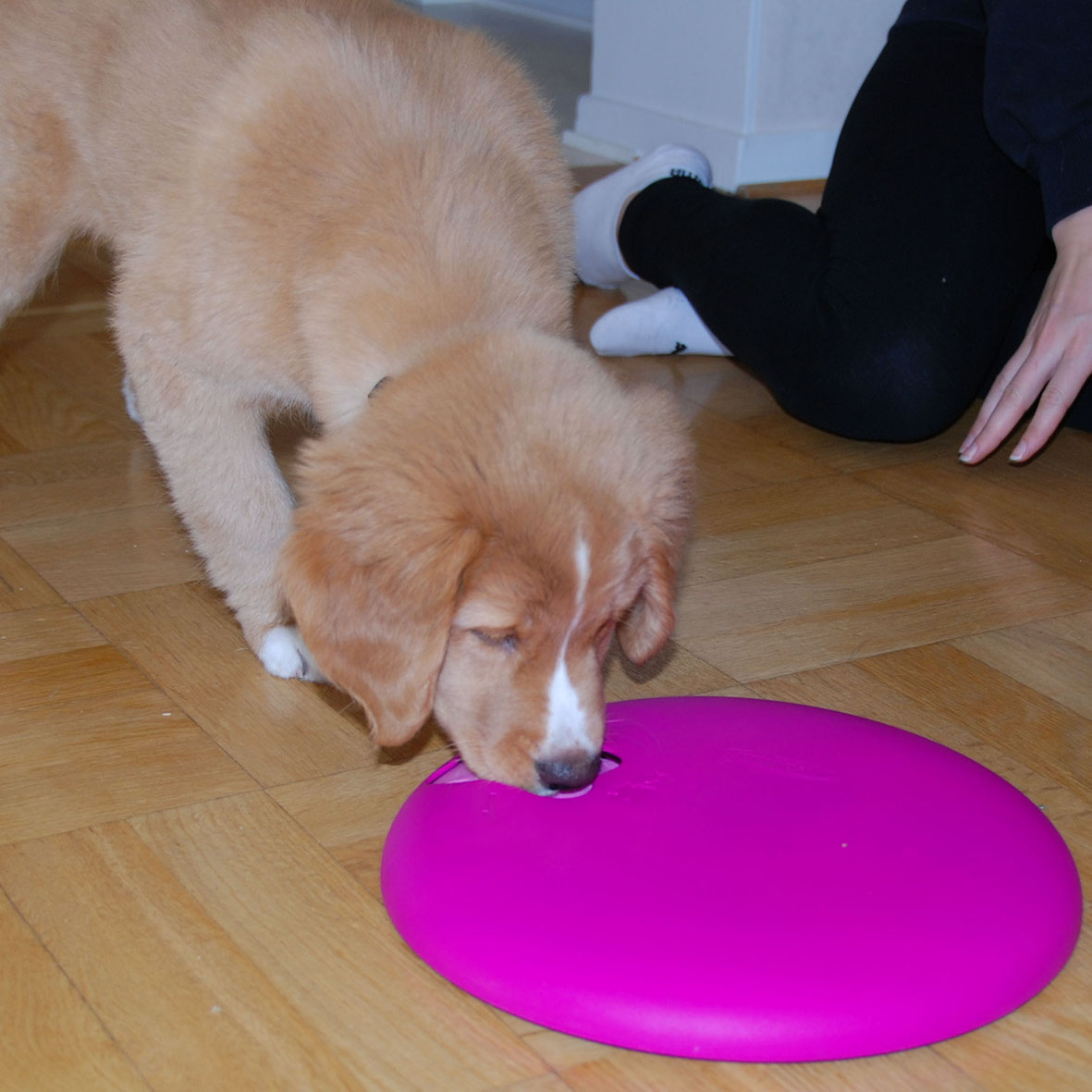 I love your products! My puppy has mastered the three that I've given her, so I can't wait to give her the expert level! Thanks!
​
Me and my dog absolutely LOVE your toys. Have been buying them for the last 9 years, and have we almost have them all both the wooden ones and the ones made in plastic. Absolutely number 1 dog activity toy, I recommend them to everyone.
​
These look fantastic!!! They were recommended to me. I am just starting a career in dog training. these look like a MUST HAVE!!!!!
​
Har 2 st 7 månaders valpar som älskar sina leksaker. Leksakerna själva är inne på sin 3:e hund period, så många har haft glädje av dom :-)
​
I have friends who have and their dogs love them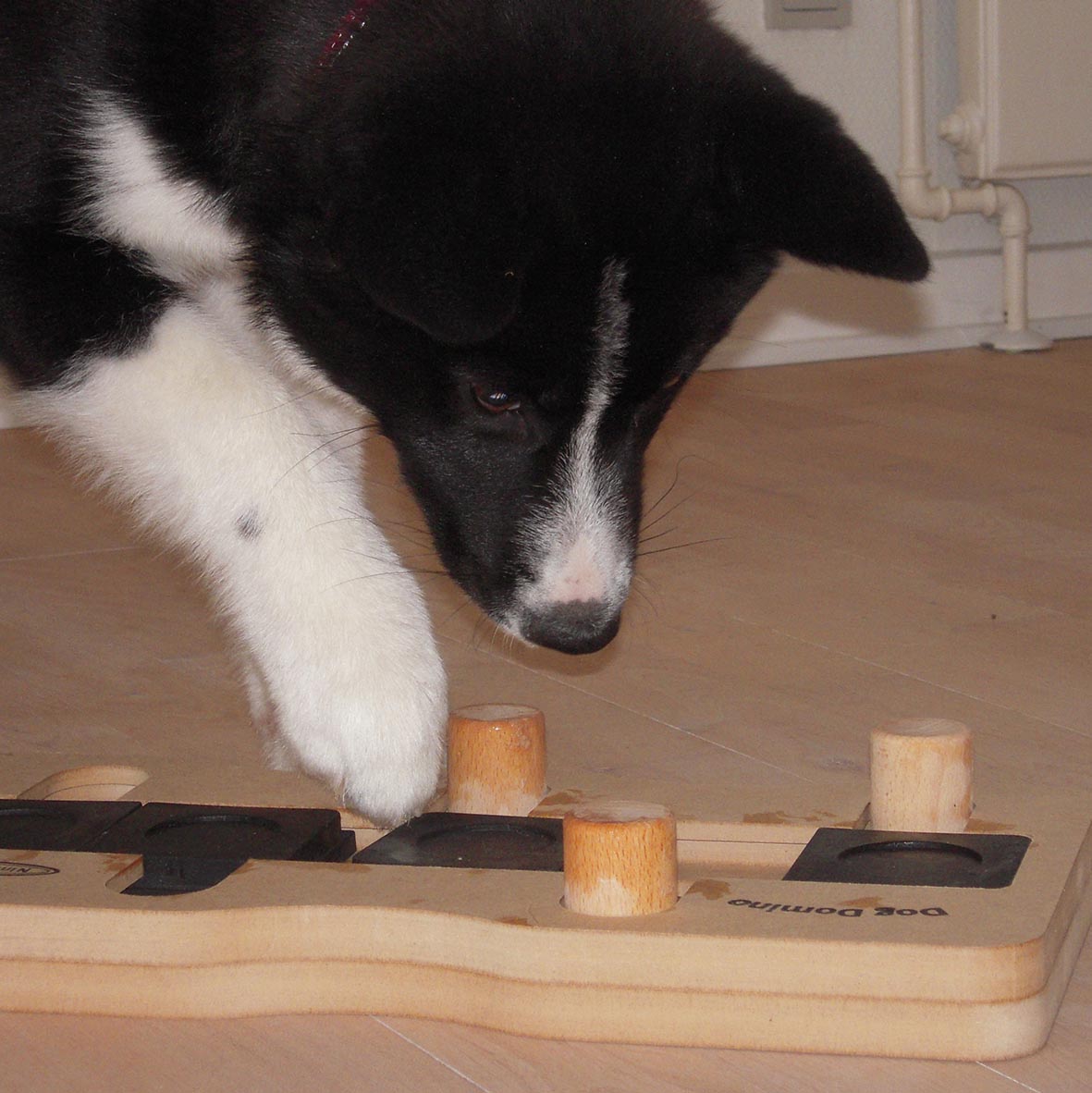 ​
cant wait to try your toy
​​
Jag och min hund älskar dina produkter! Super bra kvalite som vi kan ha kul med i flera timmar! keep up the good work!
​
My dogs love your toys!
​
Våra hundar älskar era spel.
​
​I am a Chinese student who study in Sweden and love dogs very much! I saw your products in the pets shop. love your products,and I would like to introduce you go to Chinese market! They will love you as same as me!
​
I am looking forward to trying your dog toys with my two Boston Terriers. Thank you!
​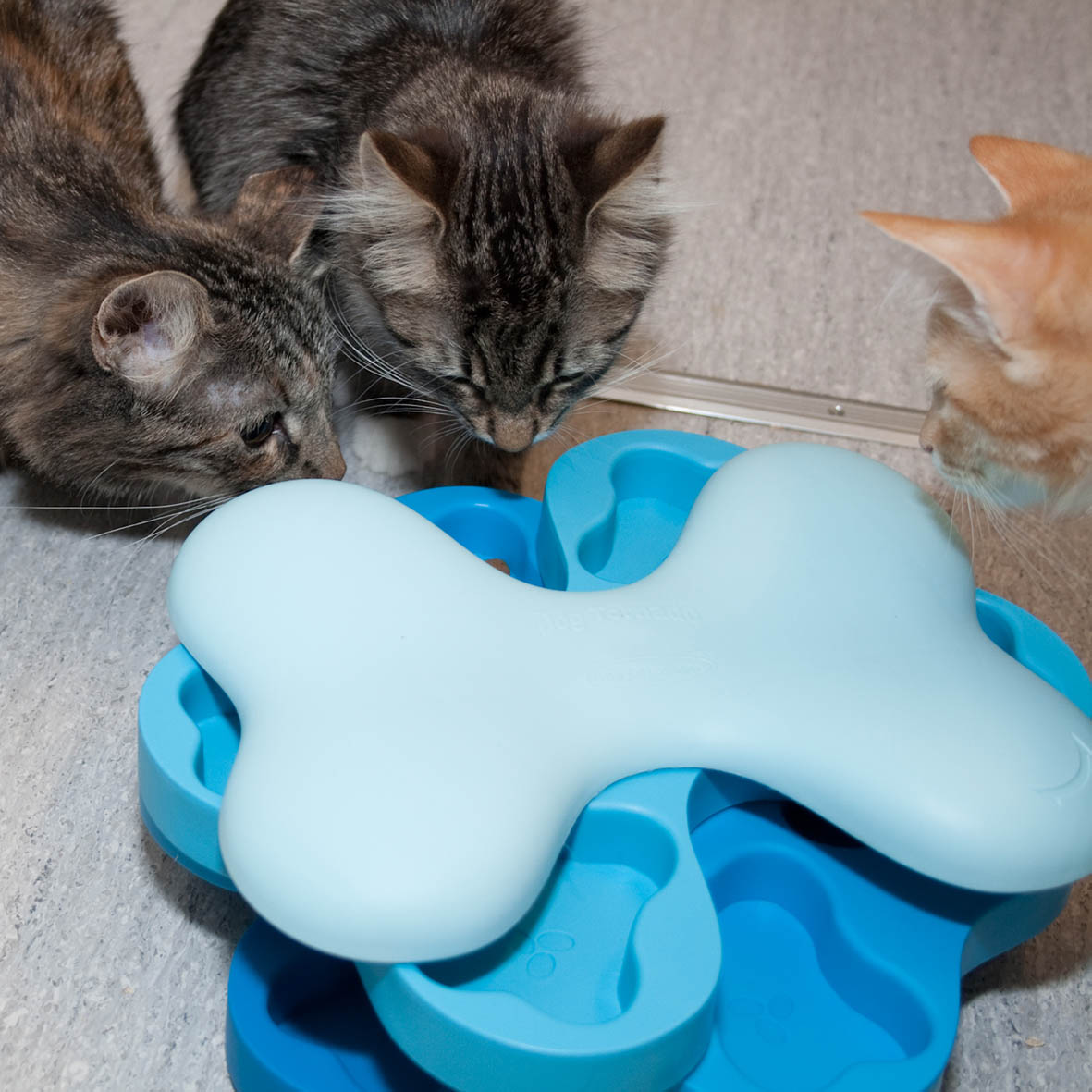 Your toys are what I have been looking for. We have two large (16 lbs.) cats that basically aren't allowed any toys. The only toys they are interested in are the ones they can eat. I found a selection of your toys at a local pet shop. After much looking, we decided on the Dog Brick. Our one cat loves it, although he mastered it in the first 24 hours. We hope to add more of this type of toy to give him more challenge.
​​
Me and my dogs (boxer x mallinois(8 years) and a belgium shepherd laekenois 6 months old)Are a huge fan of your puzzels..and already have a lot off them..and are looking forward to new ones
​
They are cool games.
​
I love your products. I gave up searching pet stores for interactive games for our whippet pup & decided to instead search the Web when I came across your site. I can't wait to place my first order.
​
My dog loves the three puzzle we bought from You. I'm not allowed to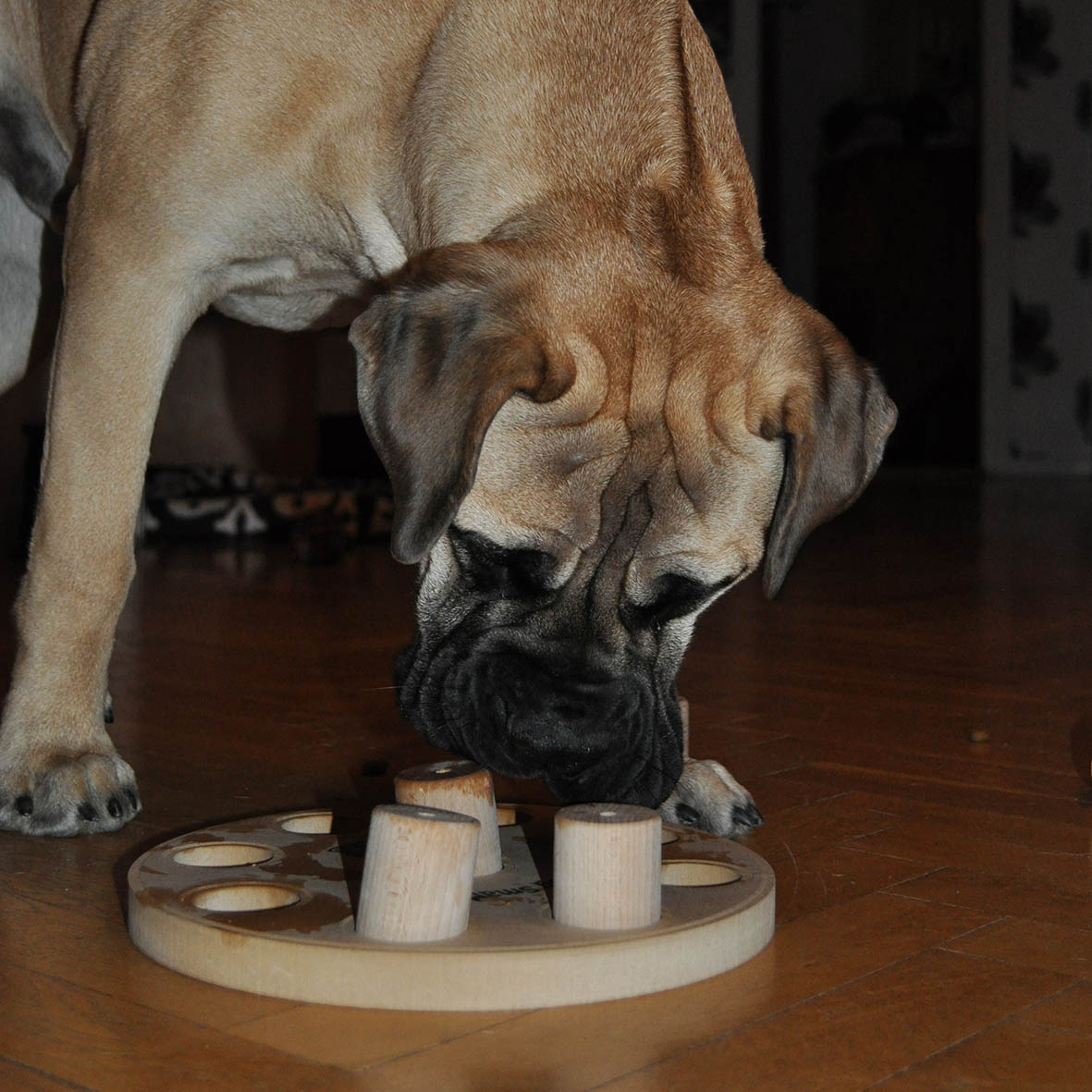 go to work, if we not done at least one of the puzzle first:-)
​
​I have a german shepard that unfortunately has been injured a couple of times and therefore has needed other training, mostly mental. Your products really work like a charm, she is having so much fun and is totally exhausted after a couple of rounds. Thanks!
​
My two Great Pyrenees (both rescues)love your games. We have game night. They have the tornado, brick, casino and finder. My male pyr dances when I take them out of the closet. The funny thing is neither one is food motivated, but they are game motivated. I buy them as gifts for all my friends and recommend them to every dog owner I know. (I think they are particularly awesome for the working breeds.) Thank you for making these!


Great as well for other animals.